FAQ ON PRESCRIPTION
What do I need to place an order?
Your Rx (make sure it's not for contacts!), your PD, and a frame you have selected on our website.
Can I use my contact lens prescription to order glasses?
Sorry, a contact lens Rx can only be used for contact lenses.
How do I order reading glasses?
It is easy to reconfigure an Rx with an NV-ADD. You simply take the NV-ADD number on your Rx and add it to the numbers in your Sphere (SPH) category for each eye. Then lower your distance PD by 3 millimeters if it's the single PD, by 1.5 millimeters for each eye if it's the dual PD. That gives you an Rx for single-vision reading glasses!
What is a prescription (Rx)?
Your Rx is what an ophthalmologist (an MD) or optometrist (a doctor of optometry) provides to correct your vision with a pair of eyeglasses with corrective lenses.
(You need an Rx written specifically for eyeglasses; an Rx for contact lenses will not work for eyeglasses!)
How to read a prescription(Rx)?
An Rx will have horizontal rows or vertical columns. The top row or first column will always be for the right eye, abbreviated as OD. The second row or column will always be for the left eye, abbreviated as OS.
Each row of an Rx has three main sections: Sphere (SPH), Cylinder (CYL), and AXIS. The SPH section corrects nearsighted or farsighted vision. The CYL and AXIS sections correct an astigmatism.
There may also be a fourth section on the Rx, NV-ADD (for Near Vision-Reading ADDition), which could be used to order a pair of bifocal or progressive glasses with a close-up vision section in the bottom part of the lens.
The SPH, CYL, and NV-ADD numbers will always have a plus or minus sign.
What if my prescription has expired?
We strongly recommended that you get an eye exam every two years, or more frequently if you notice that your vision has changed.
What is my pupillary distance (PD) and how do I get it?
Your pupillary distance (PD) is the measurement of the distance between your pupils. This is needed for the manufacturer of the eyeglasses to know where to place the optical center on each lens, so you can see well with the glasses.
Measure PD Yourself:
1. Place a millimeter ruler directly under the center of your right or left pupil so that the ruler is horizontal. Stand in front of a mirror, or ask someone else to measure for you.
2. While looking straight ahead, measure the distance from the center of your left pupil to the center of your right pupil.
3. Repeat a couple of times for accuracy and use an average for your final measurement.
*Note that the average PD is between 57 and 65mm. For bifocal and free-form progressive lenses, two PD values are needed.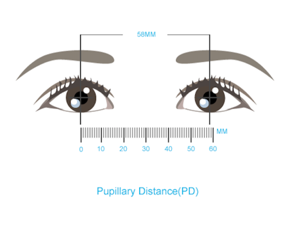 What is a single PD or dual PD?
A single PD is the measurement, in millimeters, from the center of one pupil to the center of the other.
A dual PD is the measurement of the center of each pupil to the center of the bridge of your nose.
Can you fill strong prescriptions?
Single-vision Rx:
Up to -15.00 or 6.00 on the Sphere (SPH)
Up to or - 6.00 on the Cylinder (CYL).
Bifocal Rx:
Up to -8.00 or 6.00 on the SPH.
Up to or - 2.00 on the CYL.
Up to 3.50 on the NV-ADD.
Progressive Rx:
Up to -10.00 or 8.00 on the SPH.
Up to or - 4.00 on the CYL.
Up to 3.50 on the NV-ADD.
Do you offer bifocal or progressive lenses?
Yes! We offer both. If you have ADD or NV-ADD on your Rx, you can get lined bifocals or unlined progressive glasses.
Can I order bifocals that are computer distance on top and reading on bottom?
Divide the NV-ADD in half. Add one of the halves to your SPHs. Leave the other half in the NV-ADD. This creates computer vision in the top of your lens, and reading vision in the bottom!
Can I order prescription sunglasses?
Yes! With a few exceptions, the Rx glasses you order on our website can be turned into Rx sunglasses. Just select an 80 percent tint!
What is the best tint color for sunglasses?
Gray is the darkest and best tint color. Amber, at 80 percent darkness, is a nice dark brown that is good for sunglasses, too, especially in a brown, gold, red, or tortoiseshell frame
Can I get sunglasses that are also thin lenses?
Sure! If you order Rx sunglasses, you can get the lens with the index that is recommended for your Rx to keep your lenses nice and light and thin. If you get non-Rx sunglasses, your lenses will be thin.
What is the difference between Photochromic and Polarized lenses?
Photochromic lenses are clear when they're out of the sun, dark in bright sunlight. Polarized lenses are permanent sunglasses that don't change color.
Can I order more than one pair of glasses per order?
Yes, you can order as many pairs of glasses you like! Once you put a pair of glasses in Your Cart, click on the blue Continue Shopping button on the left side of the Cart page. Then order the next pair. Repeat until you have all the glasses you want to order. The shipping fee will be the same, no matter how many pairs of glasses are on an order.
Is it required that all the glasses on the order have the same prescription?
No! You can order different pairs of glasses for your whole family on one order, with all different prescriptions.
Can I add glasses to an order once I pay for it?
Sorry, once an order has been placed you can't add more glasses. If you place another order going to the same address within the next 24 hours, either enter a note in the order stating "Combine shipping with order# XXX" or contact customer service. We'll combine the two orders, ship them together and refund one shipping fee!
Who checks my order to make sure I haven't entered anything that is obviously wrong?
Our team reviews every single order for prescription glasses. If we come across anything out of the ordinary or clearly incorrect, we will email or call you to clarify. Keep in mind that because prescriptions can differ greatly from person to person, we are unlikely to catch prescription entry errors unless you have provided us with a copy of your prescription.