12 methods for correct care of frame glasses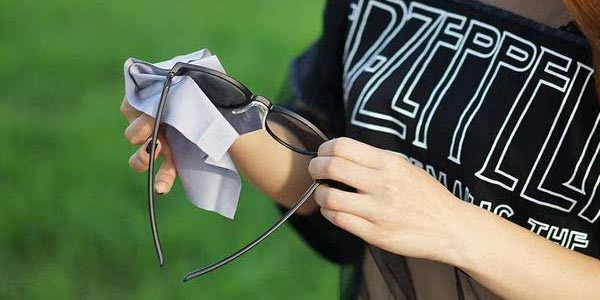 Nowadays, the number of people with myopia is increasing. Many teenagers have already put on their glasses. At the university, almost two-thirds of the students wear glasses. More and more people wear glasses, but if the frame glasses are not properly treated, the glasses will be deformed. The deformation of the frame will cause a burden on the nose or ears, and the lenses will be easy to loose. The following professionals will summarize the suggestions on glasses care. Let's take a look!
1, the placement method
If the glasses are temporarily placed, place the lens on the face with the convex side facing up. If the convex surface is placed face down, the lens will be polished.
2, the way to wipe the lens
Use a clean special mirror cloth. Be sure to hold the frame side wire on the side of the wiper with your hand and gently wipe the lens. Avoid excessive force causing damage to the frame or lens.
3, the glasses are worn
Please hold the temples with both hands and take them in parallel along the sides of the cheeks. If you use one hand to remove it, it will damage the left and right balance of the frame and cause deformation.
4, marco plegable debe comenzar desde la izquierda
La mayoría de los marcos están diseñados para ser plegados desde la sien izquierda, por lo que si doblas primero la sien derecha, se deformará fácilmente.
5, cuando la lente esta sucia o sucia
El roce en seco es fácil de afilar la lente. Se recomienda enjuagar con agua y luego usar una toalla de papel para secar el agua y luego secarla con un paño especial para gafas. Cuando la lente está sucia, se recomienda lavarla con una baja concentración de detergente neutro y luego enjuagar con agua.
6, cuando se almacenan los vasos.
Cuando se llevan y se guardan los anteojos en cualquier momento, los lentes se envuelven en un paño de espejo y se almacenan en una caja de espejo. Para evitar que la lente se raye con objetos duros, el marco se deforma al apretarlo.
7, cuando las gafas están deformadas.
La deformación del marco pondrá una carga en la nariz o las orejas, y la lente será fácil de aflojar. Se recomienda ir a la tienda profesional para realizar ajustes de plástico regularmente.
8, no usar durante ejercicio intenso
Las lentes de resina están sujetas a fuertes impactos y roturas, lo que puede causar daños en los ojos y la cara. No se recomienda su uso durante el ejercicio intenso.
9, no use la lente que ha sido usada
Se recomienda no usar lentes que tengan rasguños, manchas, grietas, etc. De lo contrario, la vista no será clara debido a la luz dispersada, lo que causará la pérdida de la visión.
10. No mires directamente al sol.
Incluso si la lente tiene una diferencia de color, no mire directamente al sol ni a la luz intensa, de lo contrario, dañará sus ojos.
11. Si la lente se moja, séquela inmediatamente.
Si esperas a que se seque naturalmente, la escala se convertirá en una mancha y será difícil de limpiar y no estará claro.
12, lavar los rastros de sudor, cosméticos y secar.
Cuando la lente esté sujeta a sudor, jugo, spray para el cabello (pegamento), cosméticos, etc., lávela con agua inmediatamente. Si no se maneja a tiempo puede causar la liberación.